Posted by Cynthia | Filed under Musings
Thinking about a kitchen remodel this spring? Keeping it Green is an important consideration when looking at cabinet and countertop options. Have you considered paper? Yes, Paper!
Richlite, has brought to the market a durable, hard surface material created from paper. Eco-friendly and beautiful, fibers can come from a variety of sources; virgin wood fibers, post consumer waste, recycled blue jeans, coffee chaff, burlap bags, banana peels, etc. Color is added during the paper making process instead of the paper saturating process to ensure consistent and solid color throughout. Stain, Scratch and Heat resistant, as well as durable and sustainable. I found it especially interesting, as extended overhangs can be created up to 24″ without additional support. A great material for an island overhang, or how about a dining table top?
Richlite r50 contains 50% post-consumer waste fibers from old corrugated cardboard.
Richlite r100 and Grays Harbor contain 100% post-consumer waste fibers and are FSC® Certified 100% Recycled. These materials have a great look, as the fibrous material has some subtle texture and depth, but also develops a patina over time, much like a beautiful stone would.  Sustainable, and beautiful.
Image and excerpts sourced at Richlite.
Tags: architecture, green design, interior design, kitchen countertops, kitchen remodel, LEED, Richlite, sustainability
Posted by Cynthia | Filed under Musings
The opportunity to experience the personal environment of an artist offers a unique peek into their process. Honoring the legacy of Donald Judd, his home and studio at 101 Spring Street will open to the public in June. 'Donald Judd revolutionized practices and attitudes surrounding art making and the exhibition of art, primarily advocating for the permanent installation of works by artists in carefully selected environments. Judd achieved this goal for his own work and that of his colleagues at both his studio and residence at 101 Spring Street in New York and in various locations in and around Marfa, Texas.'
"Too often, I believe, the meaning of a work of art is lost as a result of a thoughtless or unsuitable placement of the work for display. The installation of my own work, for example, as well as that of others, is contemporary with its creation, and the space surrounding the work is crucial to it. Frequently as much thought has gone into the placement of a piece as into the piece itself. Accordingly, it is my hope that such of my works of art which I own at the time of my death are installed at 101 Spring Street in New York City, or in Marfa, Texas, will be preserved where they are installed."
–Donald Judd, 1993
Judd Foundation's mission is to maintain and preserve Donald Judd's permanently installed living and working spaces, libraries, and archives in New York and Marfa, Texas. The architecture of the building, and space in which he displayed his work was an important element in the art's creation and display.
Excerpts sourced at the  Judd Foundation, Image Source.
Tags: 101 Spring Street, architecture, art, Donald Judd, interior design, Judd Foundation, Marfa Texas, New York
Posted by Cynthia | Filed under Musings
This fabulous Rolha side table designed by Goncaol Campos is inspired by age old ritual and tools for uncorking a fine wine. Presented as a DIY kit of parts, it is assembled from a solid turned cork top and 3 turned wood legs, fitted with a screw similar to the ones used to uncork traditional wine bottles. This assembly requires no special tools, and is sturdy and stable, in part due to the density of the cork. Simple in its aesthetic as well as its function and assembly. And the best part?  Cork is an environmentally sustainable material, renewable and beautiful in its natural state.
Images and excerpts sourced at http://www.goncalocampos.com
Tags: architecture, cork, cork furniture, diy furniture, DIY table, Goncaol Campos, interior design, Rohlha Side Table, Side Table, wine, Wine Opener
Posted by Cynthia | Filed under Musings
Love this. Graphic and textural, it almost makes me feel like I'm walking into a comic. Often reserved for large spaces, this bold approach can work beautifully in small rooms as well. This bathroom designed by Laplace and Co.,  carefully balances the visual activity. The simple edging of the cabinet doors and drawers delineates an otherwise monolithic wall, and creates for me, a sort of 'pop art' experience. There's a lot going on here in this small, artful space. The contrasts are what makes the room. The vintage bathroom sinks paired with clean modern lines and glass shower enclosure. The movement and graphic character of the stone wall juxtaposed against the bold clarity of the storage wall. Great light in a small space doesn't hurt either.  What fun.
Image sourced at http://www.luislaplace.com
Tags: architecture, Bathroom Design, Color in small spaces, Comics, interior design, Laplace and Co., Pattern in small spaces, Pop Art
Posted by Cynthia | Filed under Musings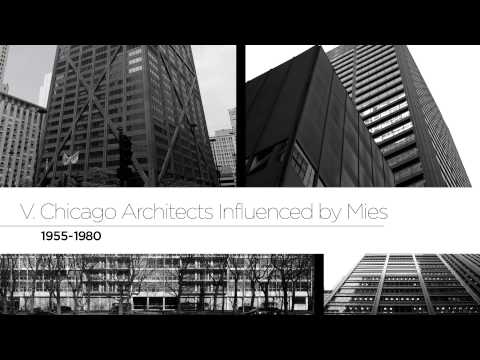 In celebration of the 75th anniversary of Ludwig Mies van der Rohe's arrival to Chicago, the Illinois Institute of Technology produced a video showcasing his work and influence in Chicago. Take a peek. I learned a few things! In addition to the substantial body of work on the IIT campus and the Chicago area, it also touches on how far reaching his stylistic influences are, identifying buildings completed by some of his students. If nothing else, the film is a beautiful showcase of Modernism's clarity, beauty, and influence. Enjoy.
Sourced at the Architects Newspaper.
Tags: 75th anniversary Mies, architecture, IIT, Illinois Institute of Technology, Ludwig Mies van der Rohe, Mies, Modernism