Posted by Cynthia | Filed under Musings
Now that's some Hairy Design Expression. Welcome to the World Beard Championships. A whole lot of fun, and a true indication that Design is alive and well. One might say these artful bewhiskered displays give voice to their personal design vision. Each sculptural mustachioed presence makes me smile.
Image Credit:  Las Vegas-based photographer Greg Anderson captured the event and has posted 164 portraits.
Tags: architecture, Beard, Beard Styles, design, Moustache, Sculpture, World Beard Championships
Posted by Erin | Filed under Inspiration, Musings
Watercolor patterns and accents are high on my list of trends to love at the moment. What's not to embrace about art-inspired products scattered throughout your home, begging to be utilized as a tool to inspire your own creativity? And although I've seen the trend manifest itself in many ways – from clothing to throw pillows – one of my favorite applications is in Petite Friture's Francis Mirror…
Posted by Cynthia | Filed under Musings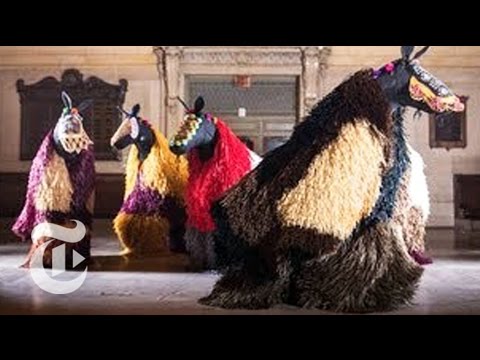 Artist Nick Cave is a multitalented creative force. Working in varied medium and creating dynamic visual display, his art at once incorporates textile design, sculpture, dance and performance art. A professor at the School of the Art Institute of Chicago, as well as a professionally trained dancer with Alvin Ailey,  his current installation at Grand Central Terminal is not to be missed. Unsuspecting commuters come face to face with these dancing horses brought to life by members of the Alvin Ailey troupe, offering a moment of beauty, movement, and reflection in an otherwise routine driven commute. Detailed, elaborate, these horses make reference to the history of transportation of this glorious building. What a gift.
Tags: Alvin Ailey, Dance, design, Grand Central Terminal, Nick Cave, Performance Art, School of the Art Institute of Chicago, Sculpture, Textile Art
Posted by Rebecca | Filed under DIY Projects, Inspiration, Musings
As a longtime renter and small space dweller, I've picked up some awesome design tips for making my space feel great (that's what it's about, folks!) From color to space planning to DIYs, creating a home that is personal and full of style and design is easy to achieve even if you are a renter. These days, product designers have started to create items that renters can use in their temporary homes. One of my fave – wallpaper. There are tons of neat options out there that apply to the wall with a sticky back that can also peel right off (think Post-It note).
 What do you think of temporary wallpaper? Would you use it in your own home?
Tags: apartment, design, renters, wallpaper
Posted by Erin | Filed under Inspiration, Musings, Sustainability
File this under "simply unbelievable." Architect Peter Vetsch recently created a series of hidden earth houses, which are essentially a cluster of homes buried deep into the hills of Switzerland. The homes are centered around a peaceful pond, promoting an organic living lifestyle nothing short of miraculous.
Can you believe these spaces? Natural light swims throughout each home, and I can't imagine how lovely the view would be from the hill (or should we say roof?). And wouldn't you be surprised if you were out on a stroll and suddenly stumbled upon a neighborhood underfoot?
Simply inspired.
Images via Design You Trust
Tags: architecture, design, international