Posted by Cynthia | Filed under Musings
Now that's some Hairy Design Expression. Welcome to the World Beard Championships. A whole lot of fun, and a true indication that Design is alive and well. One might say these artful bewhiskered displays give voice to their personal design vision. Each sculptural mustachioed presence makes me smile.
Image Credit:  Las Vegas-based photographer Greg Anderson captured the event and has posted 164 portraits.
Tags: architecture, Beard, Beard Styles, design, Moustache, Sculpture, World Beard Championships
Posted by Cynthia | Filed under Musings
Ms. Lin working on her piece "Pin River — Hudson."   NYTimes
"After Hurricane Sandy, Maya Lin, the architect and artist, decided her new show at Pace Gallery would fix on Manhattan and its environment, on landscapes and waterways. Called "Here and There," the show opened April 27 at Pace's 57th Street gallery and runs through June 22."  NY Times
I have followed the work of Maya Lin since learning of her winning project for the  Vietnam Memorial in Washington DC.  Her process is self described as one that balances scientific data with the handmade, creating beautiful and thoughtful built expression. I am always intrigued and inspired by her process.
I caught a recent article in the NY Times about her new exhibit "Here and There,". Our rapidly changing environment has informed and inspired Ms. Lin. "Among the show's highlights are three of the "pin rivers" Ms. Lin has been making since 2006, part of a series that will eventually include all the major rivers and estuaries of the world. Using thousands of stainless-steel pins and the shadows they cast, she creates wall reliefs that suggest aerial contour maps. One traces the Hudson River and its major tributaries; another picks out some of the many streams that still meandered through Midtown Manhattan a century ago.The largest marks the boundaries of Sandy's flood plain — a subject that, as Ms. Lin notes, is even harder to represent than an overbuilt urban stream."
"A flood doesn't exist except in our memory banks," she said. "It's a temporal event. It's not the river and it's not the land. It's neither here nor there."
To learn more visit www.pacegallery.com.
Image sourced at wap.nytimes.com, Excerpts sourced at www.pacegallery.com
Tags: architecture, environmentally-responsible design, green design, Hurricane Sandy, interior design, Maya Lin, NYC, PACE Gallery, Sculpture
Posted by Cynthia | Filed under Musings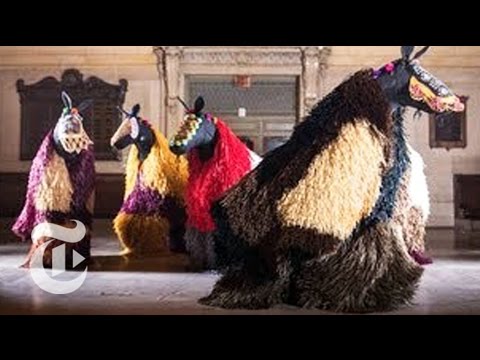 Artist Nick Cave is a multitalented creative force. Working in varied medium and creating dynamic visual display, his art at once incorporates textile design, sculpture, dance and performance art. A professor at the School of the Art Institute of Chicago, as well as a professionally trained dancer with Alvin Ailey,  his current installation at Grand Central Terminal is not to be missed. Unsuspecting commuters come face to face with these dancing horses brought to life by members of the Alvin Ailey troupe, offering a moment of beauty, movement, and reflection in an otherwise routine driven commute. Detailed, elaborate, these horses make reference to the history of transportation of this glorious building. What a gift.
Tags: Alvin Ailey, Dance, design, Grand Central Terminal, Nick Cave, Performance Art, School of the Art Institute of Chicago, Sculpture, Textile Art
Posted by Cynthia | Filed under Musings
The artful and sculptural collection of Comme des Garçons, has been captured by Parisian photographer Sophie Delaporte for the new Comme Des Garcon's Idomenee Book. The graphic presentation of this collections color and contrast is perfectly styled by Kanako B.Koga. Appropriately, this fashion brand has been exhibited in museums through the years, as the attention to detail, form, and texture is dramatic and oh-so beautiful. While living in New York, I often visited the store in Soho to view new lines, as it offered an up close study in design and materiality, and frankly some fabulous and beautiful people watching. Always anticipated at Fashion Week, and of course, not one to disappoint. The modernity and simplicity of model, costume and backdrop, paired with deliberate lighting and exacting color, create a dramatic image filled with intensity and purpose. Enjoy.
Image and excerpt sources.
Tags: Avant Garde Design, Comme Des Garcons, Fashion Design, Fashion Photography, Idomenee Book, interior design, Sculpture, Sophie Delaporte
Posted by Cynthia | Filed under Musings
Felt is tactile, natural, and can be dyed in a myriad of colors. Its uses are many, from clothing to handbags and hats. Felt provides the opportunity to create form, given its thickness and memory. Anne Kyrro Quinn's innovative work with felt includes lighting, bags, throws and cushions, as well as large scale installations custom made for restaurants and public spaces. These wall panels combine acoustic management while creating striking sculptural displays. Below are images of a few of Anne's three dimensional works of art. I could imagine these as a beautiful solution to soften a residential environment as well, providing artwork on the wall, a bit of warmth, and the benefit of softening the sounds of thunderous feet and voices.
Tags: Acoustic Panels, Acoustic treatment, architecture, felted wool, Felting, handmade, interior design, makers, Sculpture, textile design