Posted by Erin | Filed under Design Tips, DIY Projects, Inspiration, Musings, Solutions
Family trees get such a bad rap. After all, they're often dated and contrived – who wants to display either of those things on the wall of their home? Yet, leave it to Martha Stewart to transform the average family tree into a photographic installation worthy of any royal blood line around.
Bonus? All you need are family photos, scissors and an eye for design. Happy crafting!
Images via Martha Stewart.
Tags: craft diy project, family tree, modern family tree, tutorial
Posted by Erin | Filed under Design Tips, Inspiration, Musings
For me, I like holiday decorating to be two things: neutral and natural. Call me Scrooge, but bright red and green is hard to incorporate in my home, as I like a clean, calm palette. Naturally (no pun intended!), I like to bring in neutral elements and surprising details to my holiday decorating. Assuming there's a few other neutral-lovers out there like me, I've scoured the web for fun DIY ideas that could easily be transformed into fun holiday decor.
Ready for my three faves?:
1. Rag Pillows via Design*Sponge
This one is slightly complicated, but easy peasy if you already know how to crochet. How sweet would your fireplace look with a few giant cushions scattered around the tree for sleepy children? As a kid, I used to dream of sleeping next to our holiday tree, and I like to think I'll let my own kids indulge someday.
2. Mason Jar Chandelier via Kara Pasley Designs
I'd string a few Christmas lights in each jar, or perhaps some ornaments. Either way, what a perfect way to brighten up a dimly lit room. Bonus? You can leave the lighting up year round for a quirky, homespun aesthetic.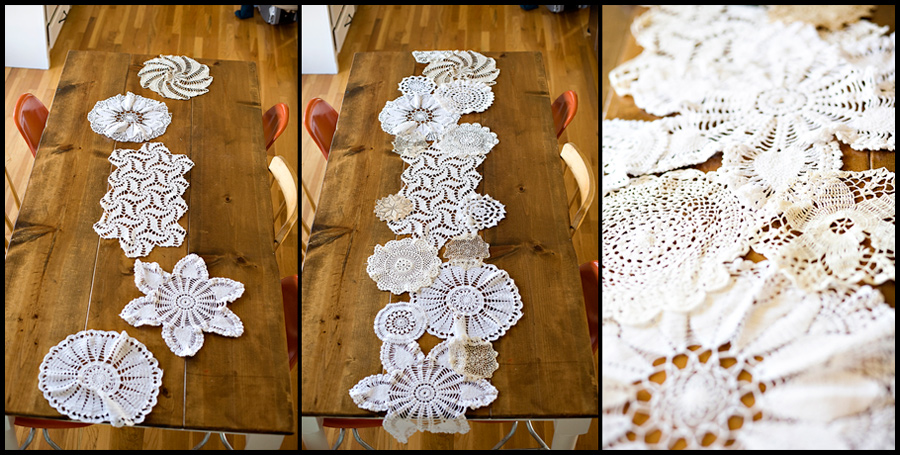 3. Doily Table Runner via Ashley Ann Photography
I love this quick and easy tutorial from Ashley Ann, and how sweet would a doily table runner look with some festive candles, monochromatic dinnerware and some bright, shiny metallic accents?
Luckily, any of these beauties can be recycled throughout the year, making holiday decor easy on the budget and closet space! Happy crafting!

Tags: accent, decor, diy, holiday, tutorial
Posted by Erin | Filed under Design Tips, Inspiration, Solutions
I'm in the middle of a renovating mess, attempting to transform a run-down, Midwestern ranch into a Scandinavian-inspired rustic cabin. Naturally, when renovating, budgets are top of mind, so I've been scouring my favorite design and decor blogs in search of DIY ideas that won't break the bank (or my back!). Lucky for you, I've stumbled on three top-notch ideas that are equal parts rustic, glam and quirky (my official recipe for style!). Care to tackle a few of these goodies?:
A recycled piece of scrap wood and a few thick twigs are transformed into a row of unexpected coat hooks with this easy DIY. Bonus? Get the goods from your own backyard for the ultimate in budget crafting! Via Poppytalk
Love the look of antlers and horns, but hate the idea of taxidermy in your home? Get creative with a few scraps of construction paper and some wooden plaques from your local craft store. Via Design*Sponge
Of course, for the ultimate in rustic luxuries, a wire-framed pendant is a must. To get the look, simply turn a basket upside down, secure with an exposed bulb lighting kit and "poof!" — instant rustic glamour. Via ReadyMade Feel like tackling a few projects this week? Just how rustic can you go?